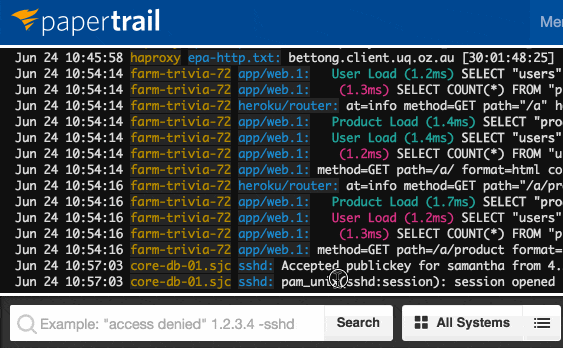 We're excited to release some subtle but powerful updates to Papertrail's event viewer that make searching and sharing logs much easier:
Searches now stay centered around the time you're looking at, so step-by-step troubleshooting is faster.
Event viewer URLs now link to exact positions, so colleagues always see exactly what you see.
Never lose your spot
When searching through logs, it's common to start with a broad search and gradually edit the search query to refine the results. Previously, a refined search would start searching again from "now" even if you had scrolled to results from the past.
Now when you edit an existing search query, the results will be based on the time of the events you are currently viewing. This should give you a quicker and more accurate search experience. Of course when you do need to manually set a search time, that option is still available.
You see what I see
When all your logs are in one place, it's easy to link to and share important events. We've made this as simple as copying and pasting the URL of your search. However, in searches that returned a lot of events, the URL might not indicate exactly what events you were looking at when sharing.
Now, you can share an event viewer URL with your team in confidence, knowing that whoever visits that URL will see the same set of events, in the same position, as was shown when the URL was generated.
How does it work?
These changes are automatically enabled in the event viewer. Keep doing what you're doing! For example, when you perform a search, then scroll to a different position, and then perform a second search, you'll be at the same time. And if you copy an event viewer URL and return to it, you'll be looking at exactly the same log message.
What do you think?
These are subtle changes from how our event viewer has worked in the past, but we hope you'll find they feel quite natural and improve your experience with Papertrail. Try it out and please let us know what you think. Thanks!