The feedback on the new SolarWinds® Papertrail™ event viewer has been overwhelmingly positive. We've heard that the new event viewer is "awesome," "sleek" and "easy to use."
We also heard, from some long-time Papertrail fans, that moving the context menu to the right side of the log lines might not have been the best choice.
The idea behind moving the context menu and event actions to the right side was that it would help prevent fat-fingering mistakes. But we discovered, in moving access to these features to the right edge of the log line, they became easy to miss.
After hearing from you, we've moved the context menu back to the left side of the log message. We also removed the need to hover over the log line. Now you'll see three dots on the left of each log line. Clicking on these dots will open the context menu.

These changes should make it easier to find and use the context menu and event actions, and hopefully save on mouse mileage.
What Are the Context Menu and Event Actions?
If you aren't a long-time user of Papertrail, you might not be familiar with the context menu or event actions. These two features can help you quickly understand multi-system events and share critical information with your teammates.
The context menu allows you to see an event within different contexts, like a specific system, program, or group. For example:
Hosts and programs are highlighted with different colors and clickable to allow you to see the event in that context.
The log sender link will show that message in context of all messages from that sender (for example, to see a complete error that occurred on a single system.)
The log type link will show that message in context of messages from that program (process) in the current group.
After clicking any of the context options, you'll be looking at the same log message and any search query will be retained.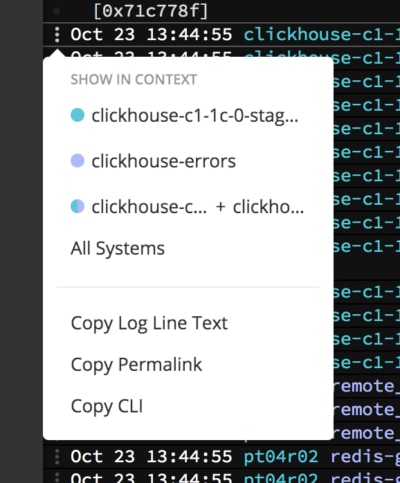 The event actions allow you to
Copy the text of the log line – a quick way to share the log message in Slack or other teaming tools
Copy a link to an event in the same context you're viewing – an easy way to share an event with a teammate or save it for reference.
Transition to the Papertrail CLI at the same point the event occurred.
Give the context menu and event options a try and let us know what you think.